Dogs And Cats Love The Smell Of Fish!
And there are many health benefits to feeding fish to your pets.
First, it's a healthy source of protein and good for older dogs and cats. A great way to provide protein without overburdening their digestive system in the same way some meats do. Fish is an easily-digestible protein, especially for dogs following digestive upsets or with liver or kidney disease, while being low in saturated fats and empty calories. Good for weight control. These facts alone make fish a fantastic source of nutrition!
Second, fish is high in Omega-3 and Omega-6 fatty acids, a natural anti-inflammatory, great for dogs and cats with allergies or intolerance to other proteins. If you purchase Omega-3 supplements, you will often find that cod liver oil is the main ingredient. By feeding a pet a diet mainly of fish, you can ensure they are receiving these benefits as nature intended. Fish is also a good alternative for dogs or cats with allergies to common ingredients, like chicken.
Third, fish is also great for pets with joint issues and Inflammatory Bowel Diseases (IBD) issues.
Fourth, the essential fatty acids can help to heal sore, flaky, damaged or itchy skin. This is because Omega-3 fats reduce inflammation, which can lessen intensity of many allergies, and reduce a dog's reaction to pollen and other allergy triggers.
Fifth, the real advantage of fish is its ability to provide so many good vitamins and healthy properties without increased risk of weight gain or protein overload, causing organs to work harder to process food.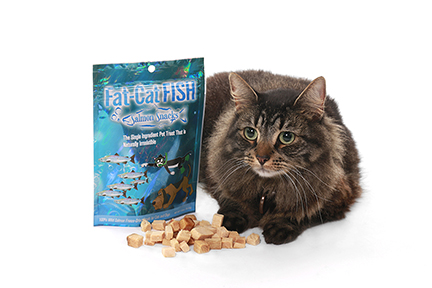 If you cook fish at home, excessive oil can cause gastrointestinal upset in dogs, or even serious illness such as pancreatitis. Seasonings may also cause serious problems, especially if they contain toxic ingredients, like garlic. The biggest risk of feeding fish, however, is bones.
Our freeze-dried benefit: because Omega-3 and Omega-6 fatty acids are fragile they can be easily damaged by the cooking process or oxidation; But our freeze-dried method preserves these nutrients so they can be absorbed by the body. Our treats ensure fish retains its original nutritional value. Therefore, our method is the best way to feed your dogs and cats.
Our salmon snacks or treats are made only with one single ingredients: 100% Pure Raw Pacific Ocean Wild Salmon caught and proudly Made in USA.
Ultra-Premium Raw Salmon Freeze Dried for Freshness. Superior Quality. High in Protein. An Excellent Source of Omega-3 and Omega-6 Fatty Acid, Essential to Good Health. Low Calorie (On average 3 calories per treat). Superior Source of Protein. Zero Grain, Gluten, Hormones or Antibiotics. 100% Organic and Natural. 100% Proudly Made in USA. Pet Parents Love Our Treats Because They are 100% Pure and Rich in Nutrients for a Happy and Healthy Life.

Freeze-Dried Wild Salmon for Dogs and Cats. Appropriate for All Ages and Breeds, Including Puppies, Nursing and Pregnant Dogs and Cats, Senior Dogs and Cats, Dogs and Cats with Low Appetite. Dogs and Cats Love the Taste of Our Treats Because They Are Freeze-Dried RAW to Lock in the Aroma, Texture and Freshness They Crave.

Appetite Stimulant to Encourage Dogs or Cats with Low Appetite to Eat. Can be Crumbled on Top of Dry/Canned Food to Encourage Consumption. Our Products are Ideal for Dogs and Cats with Health Issues or Pets that Are Overweight, Diabetic, Have Allergies, Gastrointestinal Disorders, and are on a Restricted Diet.

Taste That Will Make Dogs and Cats Go Wild. Perfect for Training and Every Day Rewards. Processed for Human Consumption. If Its Good Enough for People Its Good Enough for Our Pets.

Average calories 3 calories per treat.

From sustainable fisheries. Responsible Catch Methods. Quality Brand Pet Food.
Absolutely the Very Best.
At Fat-Cat Fish Company, We Believe that Pets are Part of the Family and that is Why Our Ingredients Come from Fish Processed for Human Consumption. We Procure Our Wild Salmon from Alaska, California, Michigan, Oregon, and Washington. Our products Contain One Ingredient - 100% Pure Raw Wild Salmon! All of Our Treats Produced in the USA Using the Latest Advancements in Freeze Drying Technology, Process, and Equipment: Delicate Freeze Drying Process that Preserves the Nutritional Integrity of RAW Fresh Whole Food.

We Practice QUALITY FIRST + SUSTAINABLE SUPPLY + GUARANTEED ANALYSIS + SAFETY STANDARDS because We Believe Pets Should Have Nothing Less Than Our Very Best. We Process Our Fish Under the Requirements of the U.S. Food Safety Modernization Act Because We Want to Supply Nothing Less Than the Very Best for People and Their Pets. Certificates of Analysis: To Ensure Strict Quality Control Standards, Extensive Lab Analysis Testing is Performed in Order to Guarantee the Level of Protein, Moisture, and Ash in Accordance to Formulation Requirements. A HACCP, or Hazard Analysis and Critical Control Points Plan is Also Followed to Ensure that the Fish Protein Meets the Same Standards and Regulations as Fish Produced for Human Consumption.

100% Satisfaction Guaranteed.